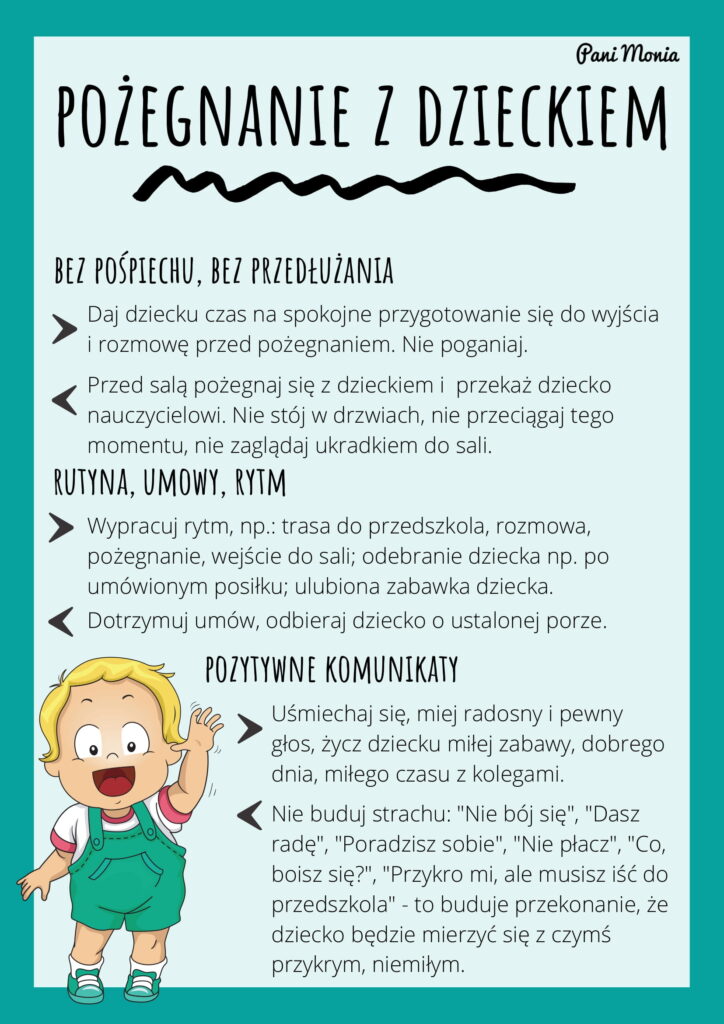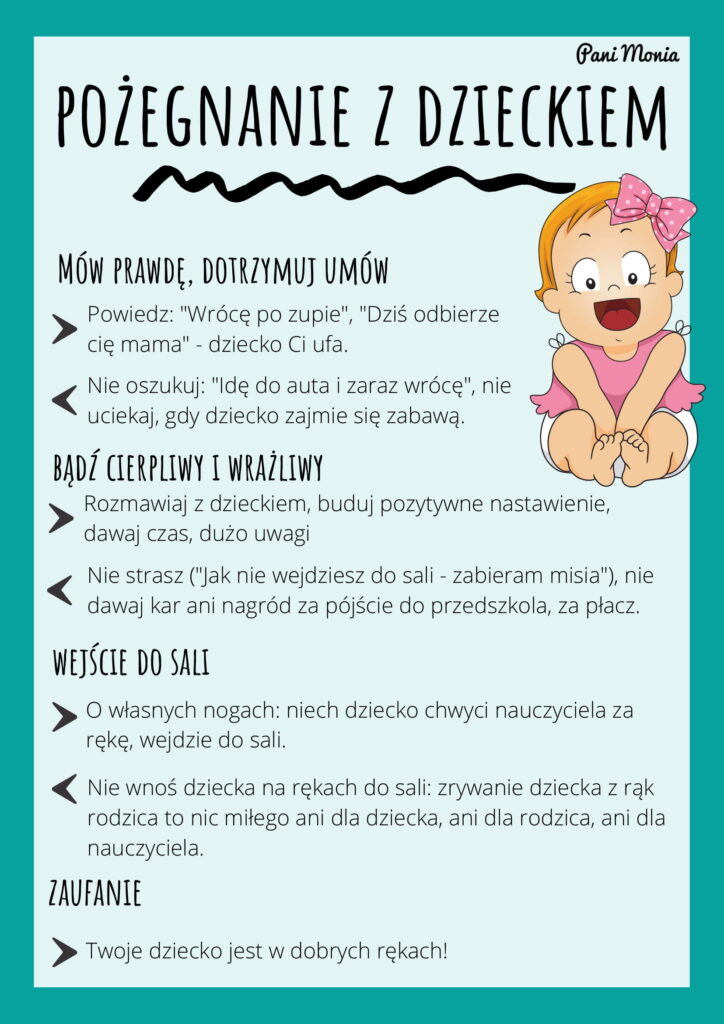 Tekst alternatywny:
Pożegnanie z dzieckiem
bez pośpiechu, bez przedłużania
Daj dziecku czas na spokojne przygotowanie się do wyjścia
i rozmowę przed pożegnaniem. Nie poganiaj.
Przed salą pożegnaj się z dzieckiem i przekaż dziecko
nauczycielowi. Nie stój w drzwiach, nie przeciągaj tego
momentu, nie zaglądaj ukradkiem do sali.
Wypracuj rytm, np.: trasa do przedszkola, rozmowa,
pożegnanie, wejście do sali; odebranie dziecka np. po
umówionym posiłku; ulubiona zabawka dziecka.
Dotrzymuj umów, odbieraj dziecko o ustalonej porze.
Uśmiechaj się, miej radosny i pewny
głos, życz dziecku miłej zabawy, dobrego
dnia, miłego czasu z kolegami.
Nie buduj strachu: "Nie bój się", "Dasz
radę", "Poradzisz sobie", "Nie płacz", "Co,
boisz się?", "Przykro mi, ale musisz iść do
przedszkola" – to buduje przekonanie, że
dziecko będzie mierzyć się z czymś
przykrym, niemiłym.
mów prawdę, dotrzymuj umów
Powiedz: "Wrócę po zupie", "Dziś odbierze
cię mama" – dziecko Ci ufa.
Nie oszukuj: "Idę do auta i zaraz wrócę", nie
uciekaj, gdy dziecko zajmie się zabawą.
bądź cierpliwy i wrażliwy
Rozmawiaj z dzieckiem, buduj pozytywne nastawienie,
dawaj czas, dużo uwagi
Nie strasz ("Jak nie wejdziesz do sali – zabieram misia"), nie
dawaj kar ani nagród za pójście do przedszkola, za płacz.
O własnych nogach: niech dziecko chwyci nauczyciela za
rękę, wejdzie do sali.
Nie wnoś dziecka na rękach do sali: zrywanie dziecka z rąk
rodzica to nic miłego ani dla dziecka, ani dla rodzica, ani dla
nauczyciela.
Twoje dziecko jest w dobrych rękach!